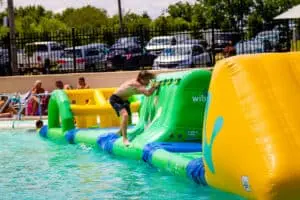 At Clearwater Park, summer fun reaches new heights with the exciting addition of the Wibit inflatable water feature. This thrilling attraction promises an unforgettable adventure for visitors of all ages. So, get ready to dive in and discover the exhilaration that awaits on the floating playground!
What is Wibit?
Wibit is a world-renowned provider of inflatable water play structures that transform ordinary pools into extraordinary aquatic playgrounds. At Clearwater Park, they've brought the excitement of Wibit right to our doorstep, offering an array of challenging obstacles, slide, and interactive elements that will ignite your sense of adventure.
The Wibit Experience at Clearwater Park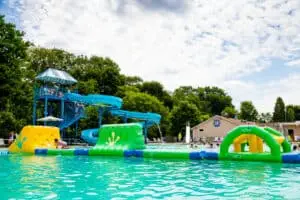 Prepare to be amazed as you step onto the Wibit inflatable water feature at Clearwater Park. This sprawling aquatic playground stretches across a designated area of the pool, beckoning you to test your agility, balance, and bravery.
Obstacles and Challenges
The Wibit inflatable water feature boasts a variety of obstacles and challenges designed to push your limits and bring out your inner daredevil. Every step presents a new opportunity for excitement and accomplishment. Challenge your friends and family to race across the course, or conquer the obstacles at your own pace—either way, laughter and friendly competition are guaranteed.
Fun for All Ages
The Wibit inflatable water feature is not just for the young adventurers; it caters to visitors of all ages. Whether you're a kid eager to conquer every obstacle or an adult looking to relive your carefree days, the Wibit experience promises to deliver endless fun and memorable moments for everyone.
Safety First
Clearwater Park prioritizes the safety and well-being of its visitors, and the Wibit inflatable water feature is no exception. Trained lifeguards are always on duty, ensuring a watchful eye over the activity area.
Add Wibit to Your Clearwater Park Adventure
When planning your visit to Clearwater Park, be sure to include the Wibit inflatable water feature in your itinerary. Prepare for hours of exhilarating entertainment as you navigate the obstacles, zoom down the slide, and soak up the laughter and excitement that fills the air.
Clearwater Park's Wibit inflatable water feature adds an extra layer of thrill and enjoyment to your summer experience. Whether you're a seasoned adventurer or a first-time explorer, the Wibit promises an aquatic adventure like no other. So gather your friends and family, put on your swimsuit, and get ready to dive into a world of fun and excitement as Clearwater Park invites you to experience the wonders of the Wibit inflatable water feature.